Welcome to the Casper's Scare School Wiki!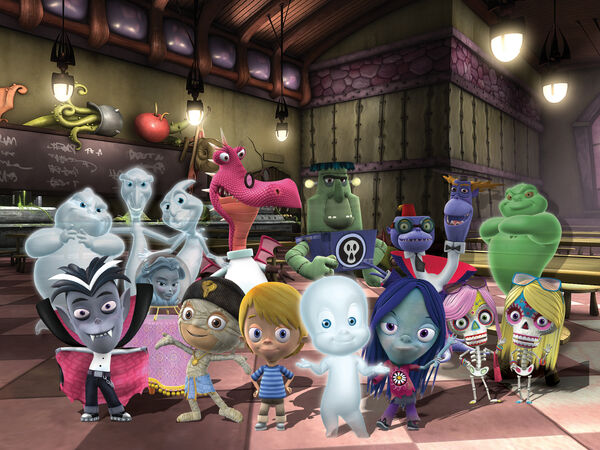 Casper's Scare School is a movie created by Classic Media and Moonscoop in 2006. It is later adapted into a TV series and two video games.
Casper's Scare School centers around Casper the friendly ghost, and his adventures at a school enrolled by only monsters - Scare School. Here he is expected to learn how to be scary, but the teachings at the school often conflict with his gentle nature. He befriends two other misfit creatures, Mantha the Zombie and Ra the Mummy, who try to help Casper overcome his kindness and succeed at the school. He also meets Thatch the Vampire, who frequently challenges him and becomes his rival. But when Casper discovers a plot by Alder and Dash, the headmasters of Scare School, to dominate the Underworld and Earth, Casper must save two dimensions and try to protect his forbidden friendship with his human best friend, Jimmy.
In the TV series, the journey continues with Casper's life and Scare School. It explores many aspects not touched upon in the movie, such as Casper's continued friendship with Jimmy, his rivalry with Thatch, among other things. The minor and secondary main characters also get an increased amount of screen time, with some episodes being entirely devoted to them. Season one of the TV series aired on Cartoon Network in 2009, with a second season airing in 2012. Both seasons contain 26 15-minute episodes each, totaling the series at 52 episodes.
Three video games have been based on the Franchise: Casper's Scare School for PlayStation 2 in 2009 and only released in the PAL region, Classroom Capers for Nintendo DS in the PAL region in 2008 and in North America in 2010 and Spooky Sports Day in 2009 for Nintendo DS and Wii. In the Spooky Sports Day game, the player controls Casper, Ra or Mantha to beat their opponents - mainly Thatch. Once all the sports are completed, Jimmy or Thatch are unlocked as playable characters.
The movie is found on YouTube and both seasons of the show can be found on Netflix.
In 2011, four issues of a comic based on Casper's Scare School were released by Ape Entertainment. The comic features art by Sabrina "Sibsy" Alberghetti and Amy Mebberson. The comics can be viewed and purchased on Ape Entertainment's website.
Random Image
Template:Image/chooser