Dummy Girl
Biographical Information
Homeworld
Physical Description
Gender

Female

Species

Possessed Dummy

Hair color

Dark blue

Eye color

Red

Personal Information
Affiliation
Production information
Voiced by

Shelly Smith Shenoy (Season 1)
and Sharon Mann (Season 2)
She is a possessed marionette/puppet/ventriloquist dummy and a member of
Thatch's gang
. Her special "creature" power is her ability to be funny, although the other students said they wouldn't be able to tell if she lost it, meaning they probably don't think she's that funny. She has a crush on
Slither
.
Appearance
Dummy Girl is made of wood. She has long navy blue hair (with black highlights) tied in two pigtals with large red bows, red eyes and has blue eyeshadow, pink colored cheeks and red lipstick. She wears a navy blue shirt with a skull on it, a red skirt, white and red striped socks and brown boots.
Personality
She tends to be annoying and likes to make fun of others.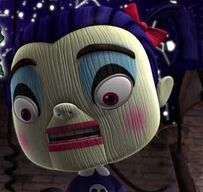 Relationships
She had a crush relationship on Slither as seen in the episode "Fang Decay". Tiny amount per cent of episodes have Slither and Dummy Girl together, for example "Scare Scouts".
Trivia
In Cappy's Mail Order Eyes, it is revealed that Dummy Girl's hair is reattachable.
This string on her back is never shown untill Calc The Chamaleon.