Harpy
Physical Description
Gender

Female

Species

Harpy

Hair color

Blue (feathers)

Eye color

Green

Personal Information
Occupation

Student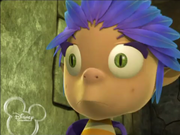 Harpy
is, as her name says, a mythological creature half-bird half-woman.
Appearance
She has blue feathers, tan skin, green eyes and fangs. She usually wears a yellow and orange stripped t-shirt, her formal attire consists of a golden headpiece with a green gem on it.
Personality
Harpy, like Wolfie, behaves like the animal form she is asociated with, in this case she usually behaves like a bird. She caws most of the time and uses very few words. She talks in the second season. She can also fly.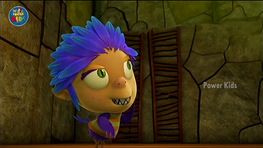 Relationships
Love Interests
Harpy went to the Winter Chill Dance with Ra. It has been hinted that Harpy has a crush on Ra.
Other
Harpy occasionally hangs out with Thatch and his gang.